Latest 2013 Inbound Marketing Research summary:

from Smart Insights Digital Marketing by Susanne Colwyn



Hubspot survey shows challenges and even greater opportunities for Inbound Marketing
Value
: ★★★★
Recommended link
:
Inbound Marketing Research
Inbound Marketing
is no longer the latest 'buzzword' since companies have been implementing it for years now since digital and social media marketing channels have been available.
The question is: how effective is it?
The notable shift from 'interruptive push marketing' to 'permission-based marketing' through the
purchasing cycle
, and greater customer expectations has created many opportunities, but also challenges of how to manage inbound marketing.
Hubspot, who coined the term, have just published their
5th State of Inbound Marketing Annual Report
. It runs to 175 pages with some fascinating insight based on 3,300 respondents Executives, Business Owners and Marketers across six continents. Within this audience (likely advocates of inbound marketing), inbound is certainly growing significantly:
' .. nearly 60% of marketers have adopted inbound marketing strategies and more than 80% of those executing inbound marketing have integrated it into broader company goals. People are also investing more in inbound, as budgets for this strategy have grown nearly 50% in each of the past three years'.
Our summary covers what we see as the most significant findings that can help marketers inform their inbound marketing strategy and implementation.
Opportunities of Inbound Marketing
Delivers on its ROI and provides more and cheaper leads that convert at higher rates.
As a holistic approach, it helps target a fragmented digital audience and improves the profitability of marketing efforts.
Inbound and automation helps Marketers be smarter with their time.
Barriers or challenges with Inbound Marketing
Companies are not addressing it with an integrated approach.
Inwards focus on sales, marketing and the product rather than strategically towards the customer's requirements.
Lack of commitment and resources from Management and Sales teams.
Showing ROI on marketing commitment and resources.
'One-quarter of marketers report that their top challenge in 2013 is proving the ROI of their inbound marketing efforts'.
We thought these were the key questions and charts from the research.
Integration of inbound marketing
Q: How integrated is your company's inbound strategy with your larger marketing strategy?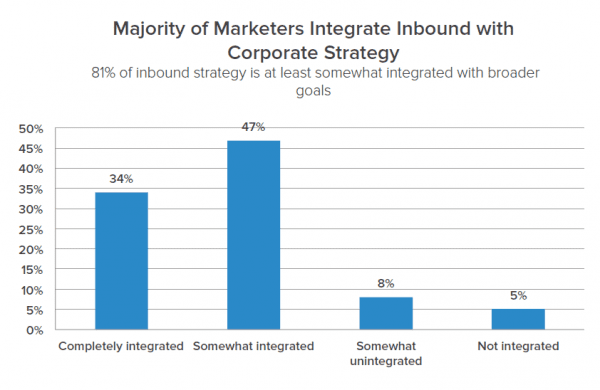 81% of companies are taking an integrated approach but 5% are not.
Inbound marketing challenges
Q: What are your company's top marketing CHALLENGES? (Segmented by business model)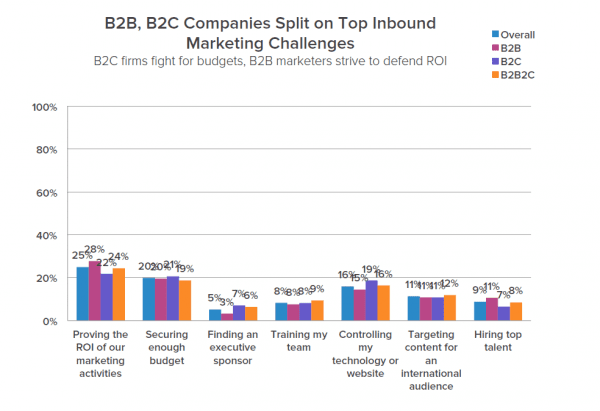 The diagram 'speaks for itself", showing ROI as the most difficult challenge.
Effectiveness of inbound marketing
Q: What percentage of your company's leads come from each of the following sources?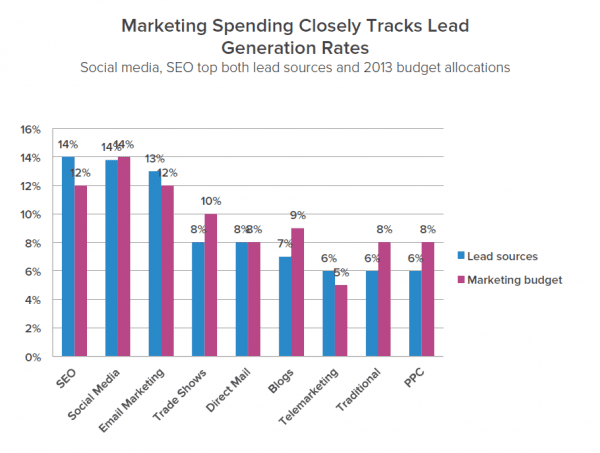 The findings show heavy investment in channels which generate lower than average lead volumes such as PPC, Direct Mail and Traditional Advertising. The report indicates that this could be due to companies not yet having confidence in the ROI from Inbound until it becomes more transparent.
Q: Please estimate your company's cost per lead for each of the channels listed below vs. your overall average cost per lead.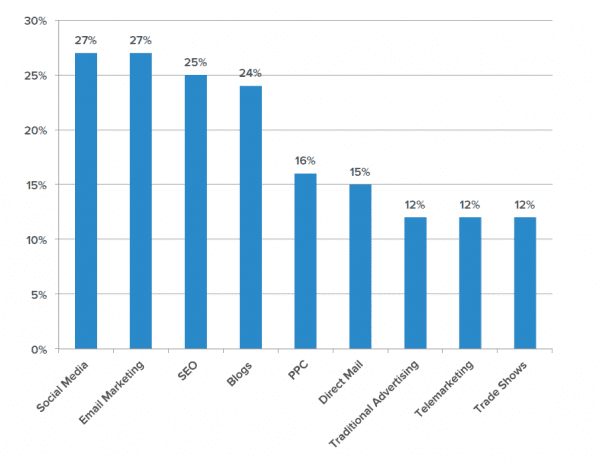 Findings in the report highlight that ' Social Media, Email Delivery Lower Average CPLS, 27% of Marketers report below average CPL for both email and social media'.
Also please note that there are cost differences across industries.
Q: What percentage of your company's leads generated in the channels listed below convert to sales vs. your total lead conversion?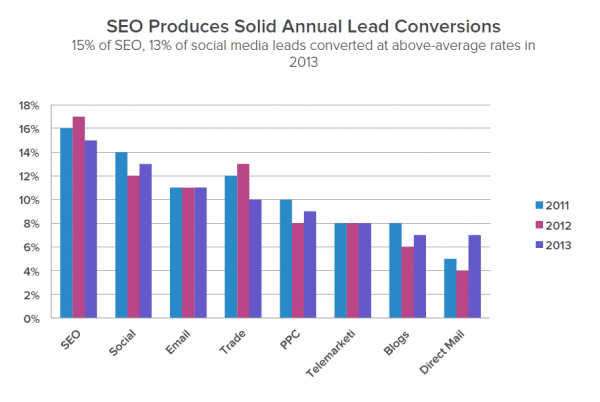 We hope you find our summary useful, do let us know your thoughts on what has or hasn't worked for you.