Marketing campaign response rates:from Smart Insights Digital Marketing by Dave Chaffey

Which media give the best clickthrough rates?
I shared this engaging call-to-action on our
Pinterest
last week. Since size of a call-to-action has an impact on response rates, you would certainly expect this to perform well, although other factors may be at work here…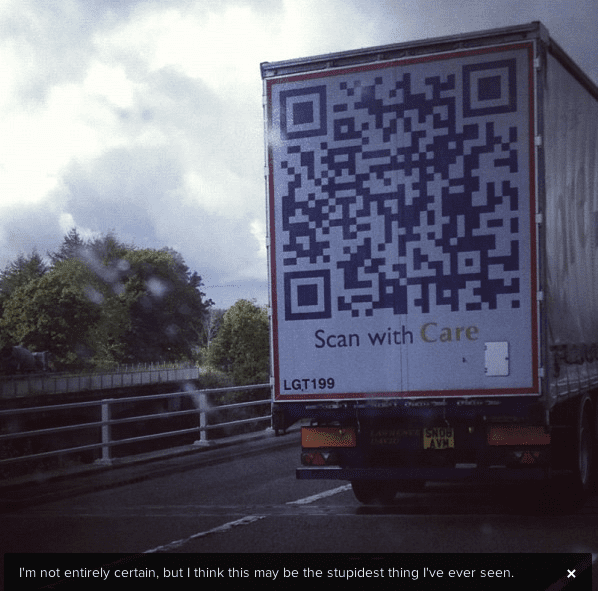 There was an interesting discussion on Pinterest, LinkedIn and Twitter about this, thanks if you took part or shared. This tweet was my favourite summary:
HUGE call-to-action, no reason to scan, no brand message = Epic Marketing FAIL (who drives & scans?) ow.ly/ed7U6 via @smartinsights
— Linsay Duncan (@LinsayDuncan) October 4, 2012
Most labelled it "dumb" since lone drivers aren't going to scan while driving and even passengers would need to be quick on the draw with their scanners.
In terms of communications effectiveness, while you can't miss the call-to-action, there is no "reason to click" or branding associated, both vital for QR code campaigns. Others noted that when you scanned through to the landing page it wasn't optimised for mobile, in fact unreadable on mobile. Another common mistake with QR code campaigns…
Others said these obvious points were missing the point and it was genius because of the PR and discussion it would generate. I agree it's certainly "remarkable", but virals are surely only worthwhile if they're connected to a brand and have a positive impact on it.
Marketing campaign response rates
Coincidentally I was also looking at this new
research on campaign response
from Nellymoser. It's interesting to see that in the US, at least,
QR code response exceeds that of many digital media
.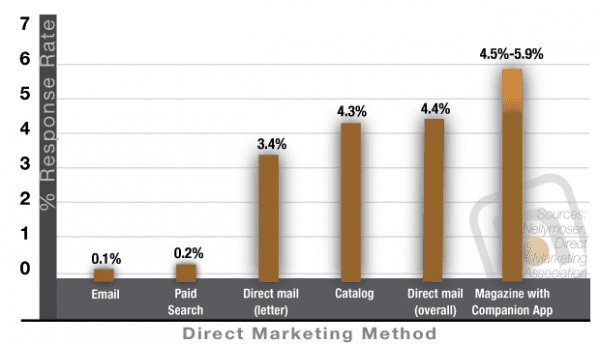 Average campaign response rates
I thought this was a useful compilation since I'm often asked by marketers
creating budgets and conversion models
as to which response rates to use. If you're a student creating a budget for an assignment for a business sector you're unfamiliar with, this can be tricky. For
IDM online marketing qualifications
we usually assess students on the quality of their recommendations and how they construct the model rather than the assumptions. If you're looking for a starting point for campaign response, these are the range of campaign response averages I recommend.
These are based on compilations across sectors, if you follow the links, you can find some sector examples:
Of course, "your mileage will vary" and some would say it's meaningless to present average rates since there are so many sector and campaign factors that affect response.
My CRITICAL mnemonic is a good way of thinking through the factors to help increase your campaign response rate:
Creative – the combination of visual imagery, branding, copy and call-to-action. Achieving AIDA – Awareness, Interest, Desire and Action is still important here
Relevance – depending on targeting and creative. Relevance is the mantra in Google to boost Quality Score in Pay-per-click
Integration – if the ad has been viewed in other media (higher frequency) a higher response is more likely (usually peaking at 3–4 impressions)
Targeting (and Timing) – Probably the biggest factor to ensure a relevant ad. Digital offers day-parting to ensure ads are run at peak viewing times for different platforms and to coincide with ads
Copy (and Call-to-action) – obvious, but the reason to respond often isn't stressed.
Attributes – These are the technical attributes of the campaign like effectiveness on a mobile platform and response mechanism.
Landing page – a relevant page like these example landing pages tailored to the campaign will always make the campaign more effective compared to linking to the home page or a product page.
I hope you find the response rate averages useful. Do share the range you have achieved or other sources. Thanks.